If anyone's here interested,

is hosting a raffle for his watchers to get a chance to win a painting!
You can view all the details of the raffle in his journal:

FREE PAINTINGS 1500+ WATCHER RAFFLEHey guys, I just want to thank each and every one of my watchers for the love and the support! If you didn't happen to catch the title, I just hit 1500 watchers! It's a pretty big milestone so I thought maybe it would be a good idea to give back to you guys in some way!
So 2 lucky winners will be receiving a free painting!
The prizes are the following:
1st prize winner: A free character illustration with a simple background!

Examples:

2nd prize winner: A free full body character design!
Examples:

Applying for the raffle is simple! Just follow these simple instructions:

1. You have to be a watcher.
2. You have to share this journal entry on your DA page and post the link in the comments below.
3. In the comments below, state the following: "I'm a goofy goober!"
If you follow th
Definitely check out his gallery. He's got a lot of really badass stuff!
Also, just a quick little update on how my days have been going lately...
I had a lot of rough weeks a few months ago because of schoolwork, but this month has been much more grueling.
I'll just sum up how I feel with this gif from Parks and Rec: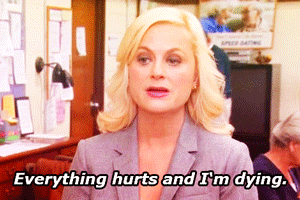 Have a great day, guys!
I'll get back to arting/commissions/replying to messages hopefully soon.